Barbette Affairs Travel agency participated in travel exhibition ITF Slovakiatour 2014 which was held in Bratislava from 29 January to 2 February 2014.  Thank everyone for visiting us. We look forward to seeing you next year.
---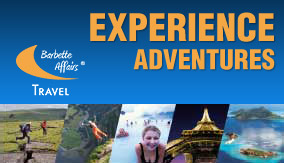 VIP ZONE
We offer VIP Club membership to our loyal clients who experience an adventure with us or purchase a certain service at least once. Then, every other service ordered entitles you to an adequate number of "Barbettie" voucher points. The points allow you to use other services provided by our company for free or with a significant discount. The VIP Zone also enables our clients to monitor the progress of managing their requirements, find information regarding current training sessions, etc.
For more information, send us an e-mail.
.