Barbette Affairs Travel agency participated in travel exhibition ITF Slovakiatour 2014 which was held in Bratislava from 29 January to 2 February 2014.  Thank everyone for visiting us. We look forward to seeing you next year.
---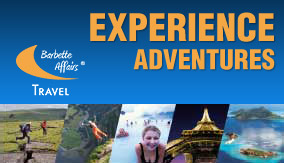 ABOUT THE COMPANY
We are a team of enthusiastic travellers, professional tourist guides, interpreters and trainers. We specialise in personalised tours and international "affairs". We offer all our clients a personal and professional approach based on the long experience of the company's founder in the implementation of international trips, projects and various international events, education, interpreting and accompanying clients at home and abroad.
The fact that we do not offer conventional holiday destinations does not mean we do not like them. But we prefer to take you to destinations which are emotional in their mystical beauty and remoteness, evoking feelings hard to find in conventional holiday resorts. We have personally visited every single island and destination included in our offers. We do not experiment on our clients.
Have you decided to improve your language skills prior to travelling abroad, or for business purposes? Are you looking for someone to help you in a slightly different way from usual? Then, you have the right address. The individual and practical approach of our tutors to training in the field, using interactive games with an appropriate dose of humour, will reveal all your hidden language talents. The certificates you receive at the end are important; our priority, however, is to provide you with experiences full of long-term and useful knowledge.
If you are a group of interconnected people, interested in entertainment and, at the same time, in improving your relationships and building a team spirit, we have something special for you – a teambuilding activity entitled "Spy Games" in destinations of your choice.
Do you need qualified interpreters or translators? Are you planning an international event? Would you like to honour your foreign business partners diplomatically, and show them the beauties of Slovakia? Talk to Barbette Affairs!
We are here for you. We prefer personal contact when negotiating business, therefore you are invited to visit us or we can come to visit you. You are welcome.
Barbette Affairs team